Seal Bay Guided Tour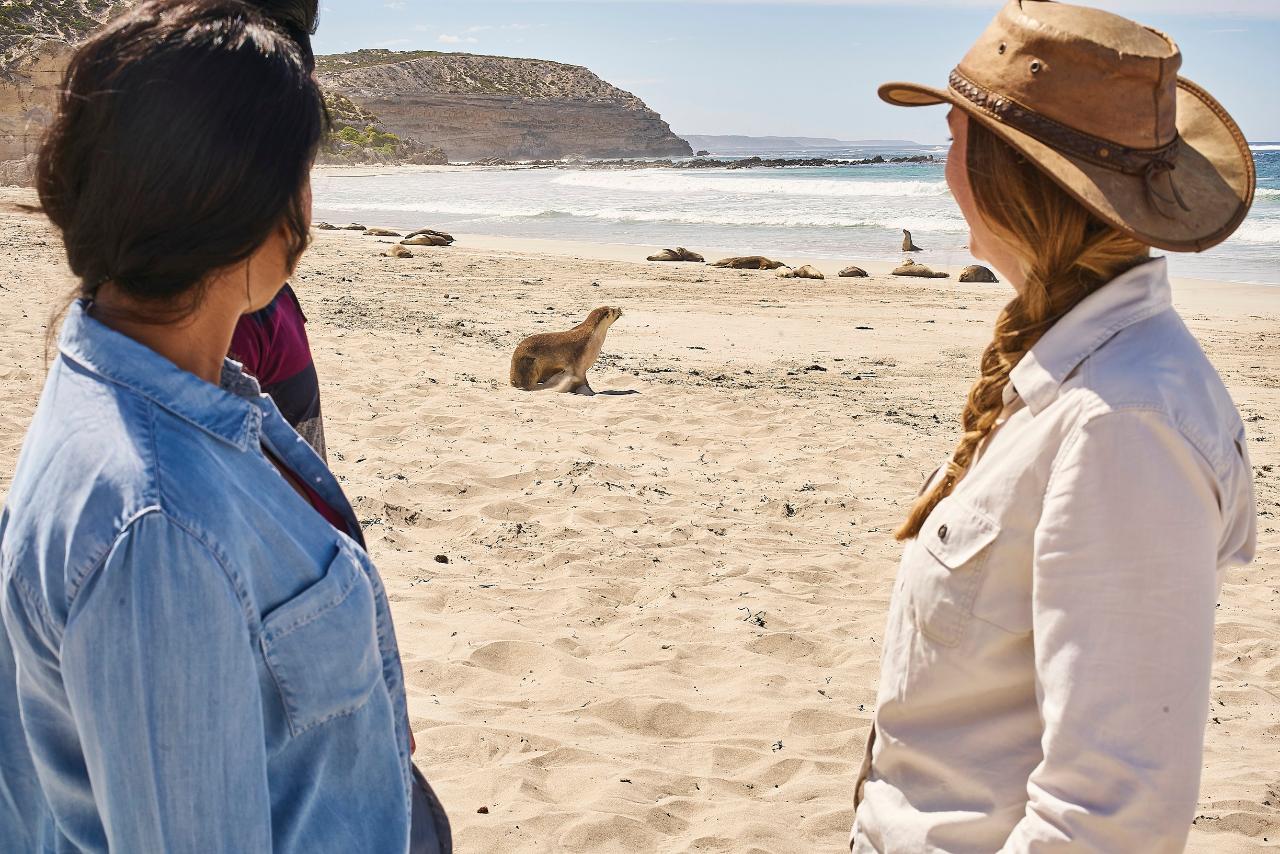 Duration: 45 Minutes (approx.)
Location: Seal Bay, South Australia
Product code: A200153001
Seal Bay guided tours are now bookable online up to the day before your intended tour (boardwalk available for walk-in only). Please ensure you book your tour to avoid disappointment. To check for last-minute availability please call the site.
Due to the intimate nature of our tours, you may be asked to wear a mask when social distancing can't be maintained.

Please check that you have selected the correct time, date and number of people before confirming your booking - thank you!
If your group is larger than 8 people, please contact the site for private touring options: sealbay@sa.gov.au or 08 8553 4463. Groups larger than 12 will incur a Private Guide Fee.

Due to COVID-19 gathering restrictions delays may be experienced for both the guided tours and boardwalk, especially over long weekends & school holidays.
We look forward to welcoming you to Seal Bay!
There are no enclosures or cages at Seal Bay. Instead, you will be taken into the heart of the colony where our experienced guides will teach you about the Australian sea lion. There is nowhere else in the world where you can listen to an expert give you their unique insight into how these endangered animals hunt, surf, rest, interact with their pups and defend their territory.
This is a 45 minute walking tour where you'll follow a boardwalk through the dune system to the beach, and on the way have breathtaking views of the colony and the majestic coastline. Sometimes you'll pass sea lions snoozing in the dune system, or even lying in the middle of the beach path.
Our guides have made studying the magnificent Australian sea lion their life's work. A guided beach tour does not follow a standardised script. Instead your guide will be interpreting sea lion behaviour and what's happening in the colony – at that very moment. They'll make sure everyone is safe and keep you at an appropriate distance (no closer than 10 metres), making sure the sea lions do not feel threatened by human presence.
This is a truly exceptional wildlife experience not to be missed. The fee for the Seal Bay Experience also includes access to the boardwalk so you are able to see everything Seal Bay has to offer.
Please ensure you arrive at Seal Bay Visitor Centre with plenty of time to commence the tour (recommend 15 minutes before scheduled tour time).
Masks must be worn for the duration of the guided tour (13+yrs). There will be points throughout the tour where guests and the guide cannot adequately social distance.
A moderate level of fitness is required for the guided tour (steep hill, stairs, unstable sand). Groups stay together at all times and guests must be prepared for walking along steep/unstable ground.
If you arrive after your booked tour time you forfeit your tour and will not be issued with a refund.
There will be no refunds due to inclement weather OR beach accessibility by wildlife positioning. If a refund is authorised it will only be made if the ticket holder surrenders the ticket to Seal Bay Conservation Park within 28 days of booking date.